Sociologists Jenny Carlson and Celestino Fernandez Honored with the 2023 Local Genius Award at MOCA This Spring
Jan. 23, 2023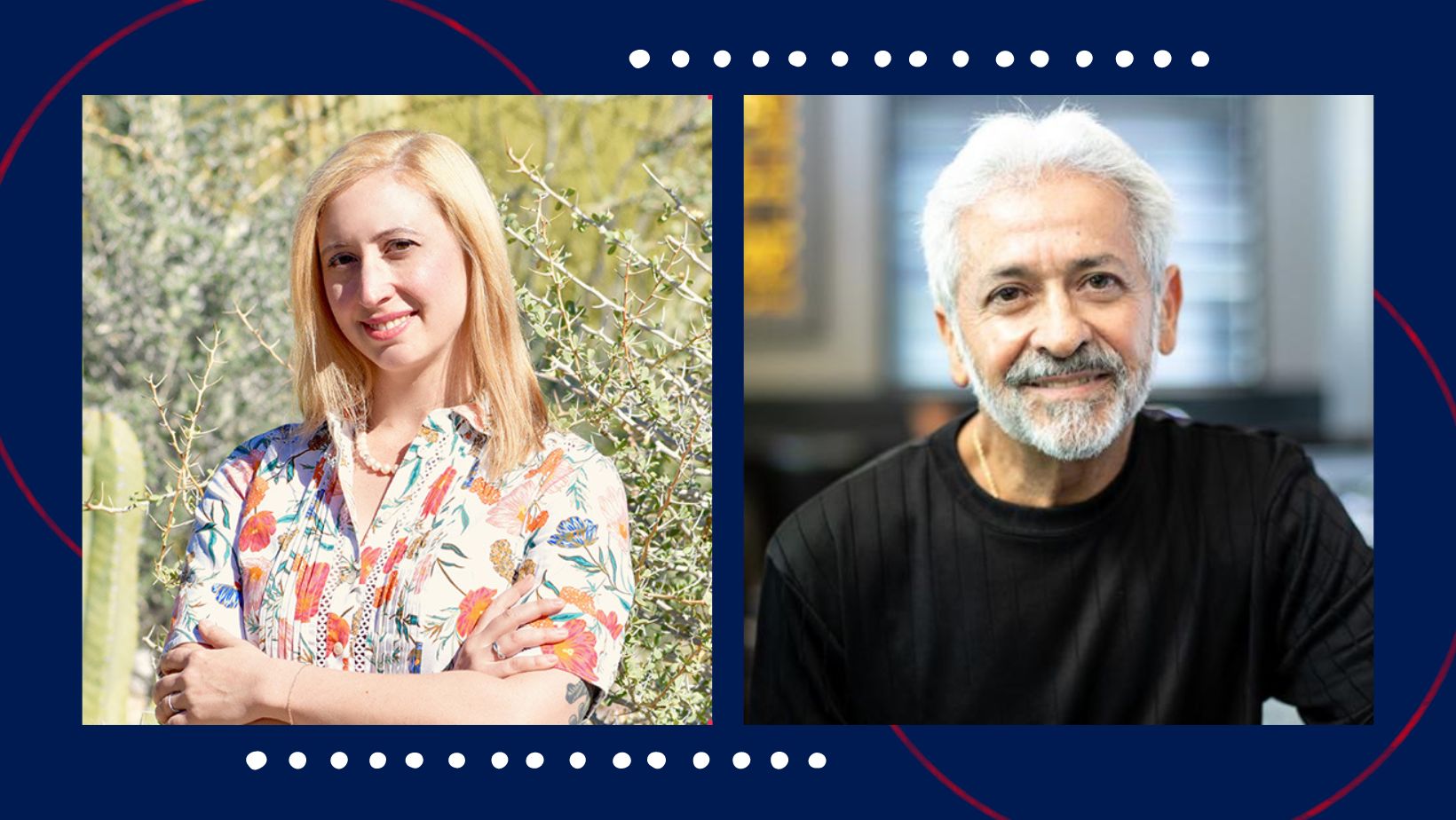 Save the date for a special evening in support of MOCA and in honor of the 2023 Local Genius Awardees: award-winning sociologist and researcher Jennifer Carlson; hydrologist Karletta Chief, Ph.D.; sociologist Celestino Fernández, Ph.D.; baker and Barrio Bread founder Don Guerra; and late writer and journalist Tom Miller.
Founded by MOCA in 2009, the Gala and Local Genius Awards honor innovative Tucsonans whose activities have a global impact, and whose talents have been internationally recognized. This year's Gala will feature the Local Genius Awardees, dinner, music, an auction, and dancing.
 Tickets are $300 per person or $3,000 per table.
The purchase of a Gala ticket directly supports a full year of dynamic programs centered on our mission to inspire new ways of thinking through the cultivation, exhibition, and interpretation of contemporary art.
ABOUT THE 2023 MOCA LOCAL GENIUS AWARDEES:
Jennifer Carlson is a 2022 MacArthur Fellow and Associate Professor of Government and Public Policy at the University of Arizona, where she teaches courses on guns, rights, trauma, justice, and law. Her award-winning research examines how guns shape American life, including those who survive gun violence's harrowing aftermath, police who enforce the country's complex gun laws, gun sellers and retailers who are on the front lines of surges in gun purchasing, and the people who choose to own and carry guns.
Karletta Chief, Ph.D. (Diné) is director of the Indigenous Resilience Center and Professor & Extension Specialist in Environmental Science at the University of Arizona. She is also the lead Principal Investigator for the National Science Foundation Indigenous Food, Energy, and Water Security and Sovereignty Training Program. Chief's lived personal experience of environmental injustice, and as a first-generation graduate, motivates her environmental research devoted to supporting the resilience of Indigenous communities and training students in sustainable technologies. Her primary Navajo projects include Navajo COVID-19 Risks and Indigenous Resilience and Gold King Mine Spill Diné Exposure Project. Chief received a B.S. and M.S. in Civil and Environmental Engineering from Stanford University in 1998 and 2000 and a Ph.D. in Hydrology and Water Resources from the University of Arizona in 2007.
Celestino Fernández, Ph.D. served as Professor of Sociology at the University of Arizona for 39 years (retired July 2015). He taught courses and conducted research on topics pertaining to immigration, education, and culture, has published approximately 50 articles and book chapters on various sociological topics, composed about as many corridos (Mexican ballads), and recently published a 2-CD packet (Corridos de Celestino). He has helped start five schools, including San Miguel High School, a college prep school that serves students from low-income families. In recognition for his work  he was named University Distinguished Outreach Professor in 2007 for his "exceptional service to the community, state and nation." Fernández received an M.A. and a Ph.D. in sociology from Stanford University.
Don Guerra uses flour and water to build connections and to make the world a better place. Guerra founded Barrio Bread in order to revive native and heritage grains and to build a sustainable grain economy in southern Arizona. Guerra unites regional farmers and millers in bringing healthy whole grains, flours, and breads to consumers, expanding the meaning of Tucson's gastronomy. With his unique, naturally fermented breads, he promotes biodiversity and drought tolerance, and enhances the nutrition and flavor profiles of the regional food supply. Guerra has won numerous awards, including the 2022 James Beard Award for Outstanding Baker. He shares his knowledge through interactive workshops and in the classroom with school children, at Tucson Village Farm and the University of Arizona.
Tom Miller (1947-2022) was a celebrated author known for books about Latin America and the American Southwest. Primarily a travel writer, his notable titles include On the Border, Trading With the Enemy, and Revenge of the Saguaro —which won the Lowell Thomas Award for Best Travel Book in 2001. He has edited three compilations, Travelers' Tales Cuba, Writing on the Edge: A Borderlands Reader, and How I Learned English. He was also a major contributor to the four-volume Encyclopedia Latina. A veteran of the underground press of the late 1960s, Miller's articles appeared in Smithsonian, The New Yorker, LIFE, The New York Times, Natural History, among many other publications. With more than fifty years as a freelancer, he described himself as "successfully unemployed."
Past Geniuses include: Dr. Carol A. Barnes; Byrd Baylor; Sherwin Bitsui; Joey Burns (Calexico); Guadalupe Castillo (Las Mujeres de Manzo); Valer Clark; Robert Colescott; Margo Cowan (Las Mujeres de Manzo); Suzana Davila; Dr. Anna Dornhaus;  Howe Gelb; Gabby Giffords; Raquel Rubio Goldsmith (Las Mujeres de Manzo); Dr. Thomas M. Grogran; Rick Joy; Brad Lancaster; Dante Lauretta; Dr. Diana Liverman; Taber Maccallum; Leslie Marmon Silko; Dr. Gary Nabhan; Jane Poynter; Mort Rosenblum; Peter Smith; Dr. Susan Stryker; Jacob Valenzuela (Calexico); Dr. Peter Warshall; Dr. Andrew Weil; Janos Wilder; Robert A. Williams; Ofelia Zepeda.
For sponsorship opportunities, please contact us at development@moca-tucson.org.
Article written and owned by Museum of Contemporary Art Tucson.